Tags
A Boogie, Ben Billions, Conscience, Day for Day, Florida, Free Cool, Future, Kodak Black, Painting Pictures, Patty Cake, Pompano Beach, Top Off Benz, Tunnel Vision, Wheezy, Young Thug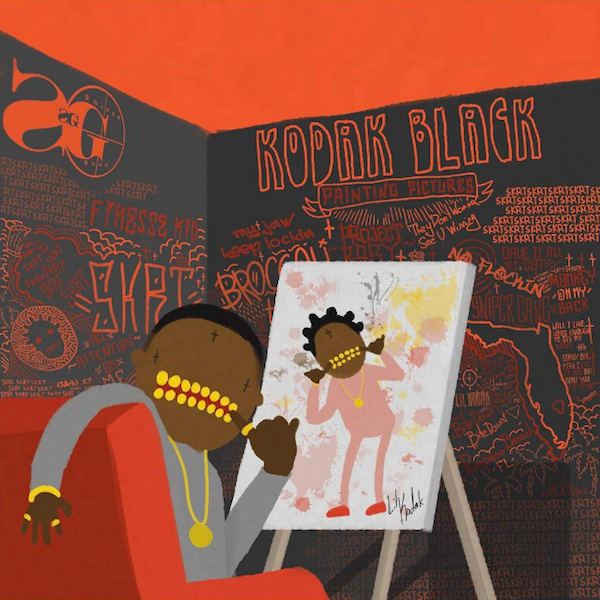 Kodak Black – Painting Pictures
Given that the only narrative arc with as much scope to it as Kodak's elevation of his status into both a local folk hero and a veritable cult hero a la a Gucci Mane or Boosie to his rapidly growing legion of fans is the constant specter of legal troubles that has haunted his young career so far, its fitting that rather than with lyrics or a catchy chorus, his debut album Painting Pictures begins with just a stark, minimalist medley of clips from the news of newscasters reading off headlines mentioning his indictments, house arrests, parole violations, no contest pleas, etc. "You know I'm a hot boy, but I never lose my cool, the streets on fire, that's why I'm riding with a tool," he raps over the understated, twinkling production from Ben Billions after this on the excellent, minimalist album intro "Day for Day", who produced many songs on this album. He reminisces on lost friends, both to death and incarceration, like his childhood friend Cool, who he has already done a separate song about (Free Cool). You get a sense of the heaviness he has already felt on his shoulders at a young age from these losses as well as from the pressure on him that he feels (whether internal, external, or both) to succeed for those around him, "I ain't tryna see the pen I'm tryna make it shake, neighborhood hero I'm the one who gon save the day, chosen one; my folks depend on me to make a way, I do it for my niggas locked up doing day for day."
The album is pretty light on features, which makes sense that is such a personal album and so focused on personal narrative. There are a couple of surprising guest features that seem like figures from a bygone era of rap, especially to Kodak's young fan base, such as Bun B or Jeezy. With all due respect to both of those veteran artists but I didn't feel like their cameos added much to the album. By far the highlight of the collaborations is 'Top Off Benz' with Young Thug, perhaps the only artist who is on par with Kodak in terms of being enigmatic, mysterious, and transcendent. Their collaboration on Top Off Benz produces intoxicating results, and one of the most fascinating and ambitious songs I've heard in a long time; the amazing beat was done by a producer by the name of Wheezy. It's probably worthy of its own post and brings out the best in both artists. "Chanel seats inside the car dog, Chanel money, high as the stars dog' he gleefully howls on the chorus. "My water gon drown you, my Bentley truck soundproof," is another highlight from Thugga.  'Reminiscing' with the Bronx's own A Boogie was another really solid collaboration.
The collaboration with Future, Conscience, is another highlight. The beat somehow makes me think of South America, and 90s/early 2000s rap, in a good way. "These streets took my conscience," Kodak sings, more than raps, in an almost speculative voice. The two stars work well together, as Future contributes a solid verse with his instantly recognizable voice and sings as well. Its a very introspective song where both artists engage in plenty of bragging about their success, their trigger happy ways, and the wealth that comes with it, but you also sense a bittersweet hint of regret and melancholy about some of the less glamorous effects that have come with those lifestyle choices. "She say she brand new I want the old her, 1800 block I got more stories than an author, I'm credit card swiping at the Chase Bank, me and Future gang gang same thang… I remember hitting houses nigga cash for gold, these streets made me lose my conscience,  took a nigga soul." Another highlight is another reference to the oft-mentioned Cool, and Kodak's declaration to those who want to test his mettle as he also refers to another Central Florida local hero of a different kind, Chris Johnson, 'Ayy, free my nigga cool he in the chain gang, Chris Johnson, I swear to God I drop the 28…30 golds in my mouth like I'm Stephen Curry, 30 clip in my Glock cause I'm a damn warrior'.
The most fun, and catchiest, song on the album, is definitely the infectious 'Pattycake,' an absolutely delightful trap number that brings the same type of vibe you got a few years ago from Gucci Mane on 'Lemonade'. You'll be humming along with Kodak's chorus and the sugary piano-infused beat from Ben Billions for days on end after listening to the album. Its certainly not the most substantive song on the album but admittedly it may be my favorite just because its such a pop music masterpiece. "I'm sippin' on Belaire, my chick from Bel-Air, my whip from Germany, I'm cooler than LL, I clap a nigga like patty cake' raps Kodak gleefully over the summery, playful production.
The only song I wasn't really a fan of on the album was Tunnel Vision, which is perhaps one of Kodak's most popular songs to date, at least from a chart perspective, and the masses of fans that were demanding its release for months after he teased it on Instagram. It's never a bad thing for an artist to have a message about society as a whole or a political message but for whatever reason the song just didn't do anything for me and I didn't like it from a musical perspective either. The beat was too plodding for my liking, the lyrics and video were a bit heavy-handed to me, and I didn't feel like the song fit in with the rest of the album, but obviously it has been a huge success so to each their own.
'Off the Land' was another great song, and the album ends with a tour de force, 'There He Go,' which Kodak recorded right after being released from prison (and prior to his current return). Its perhaps the most boastful and bullish song on the album, perhaps evocative of being newly free. 'These ain't ray-bans, these Saint Laurent shades hoe, the way my niggas hit your block you'd think it's Halo, no more home invading now I'm on the radio,' Kodak raps, reflecting on his own rags to riches story in menacing fashion. The catchy and memorable chorus also sees him reveling in his newfound freedom and fame, "Every time you see me I'm surrounded by them snipers/You ain't never run off with a hustler in your life, huh?/I'm from 1800, I'm a hot boy, but I'm iced up/Ugly corner/where we smile with you and we don't like you/Just hopped off the plane I just got out about a day ago/Everybody love me, when they see me they be like, "There he go!"/Got me a new lady, we 'bout to take a trip to Mexico/Crackers took my .40 so I'm 'bout to buy a Draco"
Clocking in at over an hour and 18 songs long, Painting Pictures is a long and diverse album with a lot to take in, but overall, whether you are already a fan, or just curious, its well worth the effort for listeners who want to take in a new rap magnum opus from an up and coming young artist with a story to tell.
Rating: 9 out of 10